What is Optimum Nutrition Gold Standard Gainer ?
Optimum Nutrition Gold Standard Gainer Protein is Carb and Recovery Formula !Size is an advantage in many sports, but some athletes have a hard time gaining weight. You can only eat so much food, so we formulated Gold Standard Gainer with quality calories in a 2:1 ratio of carbohydrates to proteins. Each full-sized serving weighs in at 763 calories with 55 g of protein to help you grow bigger and stronger when taken in conjunction with a diet and exercise program.
Gold Standard Gainer is built on a foundation of complete dairy proteins, mostly from isolate sources. The carbohydrate blend includes oat, pea and potato and the fats include medium chain triglycerides, chia and flax. Obviously, this is not your typical gainer formula. ON took it a step further by making it easy to mix up in a shaker cup. No blender needed. This is the new Gold Standard for weight gain.
Complete Proteins From Primarily Isolate Sources
Complex Carbohydrates Oat, Pea and Potato
Fats From Flax, Chia & MCTs
Mixes Easily Into Cold Water or Milk
Banned Substance Tested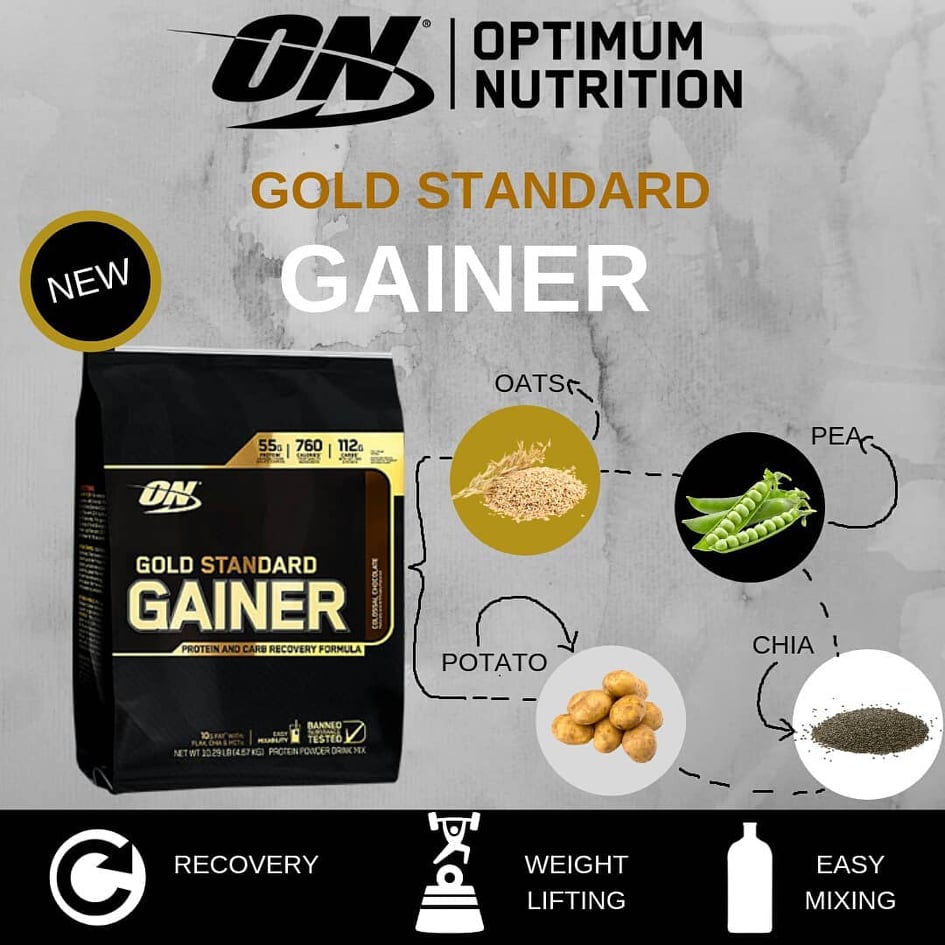 Gain The Gold Standard Advantage!
Directions :
Mix 2 level scoops with 325 ml of cold water.
Enjoy Gold Standard Gainer post workout or up to 2 servings per day for healthy adults to meet their daily protein and calorie requirements with a combination of high protein foods throughout the day.
Serving Size: 4 Level Scoops

Servings Per Container Approximately 16

Typical Values

Per 203 g

Energy

3,191 kJ

      

Calories

763 kcal

      

Fat

12 g

      

Of Which Saturates

8.2 g

      

Carbohydrate

105 g

      

Of Which Sugars

10 g

      

Fibre

7.2 g

      

Protein

55 g

      

Salt

1.18 g

      

Ingredients

Protein Blend (WHEY* Protein Isolate

, WHEY* Protein Concentrate

, MILK Protein Concentrate

, Hydrolyzed WHEY* Protein Isolate

, Emulsifier: SOY Lecithin)

, Quality Carb Complex (26%) (OAT Flour [GLUTEN]

, Potato Starch

, Pea Starch)

, Maltodextrin

, Fat-Reduced Cocoa Powder

, Medium Chain Triglyceride Powder

, Flavourings [MILK]

, Ground Flaxseed

, Thickeners (Xanthan Gum

, Guar Gum)

, Sodium Chloride

, Sweetener (Sucralose)

* from MILK